Mrs. Owens
is hosting this fun linky party where you can learn 10 Things About Me! :)
So... here they are!
10.) I spent a few days on an uninhabited island with some teacher friends and a beautiful lighthouse last summer... it was not my cup of tea! My mom drove for six hours to rescue me from the "vacation" three days early!
9.) I love love to read. I read lots of things, but my secret favorite is teen fiction! Supernatural-esque stories with a smattering of romance... and NOTHING beats the "City of..." books by Cassandra Clare for a good time! Oh yeah... that's Jace the cover. I love that Shadowhunter!
8.) I have lost 55.9 lbs so far this year! This is something I'm super proud of, but haven't shouted from the rooftops yet!
7.) I am in love with the fictional character Gilbert Blythe. If you've ever seen or read
Anne of Green Gables
you'll know exactly what I'm talking about!
6.) I love shoes. And purses. Once my husband accused me of having 5 purses. I'm so glad that's all he thinks I have!
5.) My husband and I are heading to New York City next weekend! We'll be gone for a week and I can't wait to hit the big city, eat some tasty food, and see some shows! We have tickets to "Memphis" and "Rent"!
4.) My BFF and I aren't just BFFs... we are BFFAFALTATs (Best Friends Forever And For A Long Time After That)!
3.) I love Christmas and have a huge collection of ceramic houses for a
Rudolph Christmas village
. My husband says it looks like "Santa pukes" on our house at Christmas. Highest compliment ever!
2.) I am terrified of mice. Everything about them creeps me out. Their squeaky noises and long tails and buggy eyes and scurrying feet... EEEK!
1.) I am obsessed with musicals in a bad way. I love them more than anything! Fortunately, my husband supports my habit. I have seen Fiddler on the Roof, Wicked (x3), Legally Blonde, The Color Purple, 25th Annual Putnam County Spelling Bee, Grease, Chicago, Hairspray, Cats, Phantom of the Opera, Spam-a-Lot (x2), The Wizard of Oz, Mary Poppins, A Christmas Carol, West Side Story, The Producers, Beauty and the Beast, and my favorite, favorite of all time (which I will be seeing for the
5th
time next week in NYC! I saw it in Chicago two years ago when Anthony Rapp and Adam Pascal reprised their roles as the two original lead cast members!) is...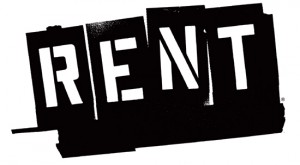 So, that's me in a nutshell! Head on over to
Mrs. Owen's
at Go Fourth! to add yourself to the fun linky party!