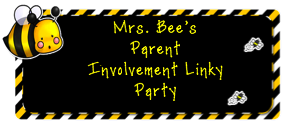 Ok- THIS is the last blog post! I just couldn't resist joining this linky party to showcase how I keep parents involved in my classroom. Thank you, Bee's KinderGarden, for hosting this! Head on over and share how you keep parents up to date on your classroom happenings!
I use my
website
to keep parents up to date.
I also send home a bi-weekly newsletter!
Ok! That's it! Head over to Bee's KinderGarden to link up too!
See ya next week... for real this time!