Yay! Thanks Amy for blogging here today! I know ya'll are going to love Amy... she's so sweet and everything she makes is SO cute and perfect! Enjoy!!!! I love this post... what a great way to work on this difficult skill... not only that, but Kelley gets a shout out too! Yay! THANKS Amy!
Hey everyone! It's Amy from The Resource(ful) Room! I am so excited to be guest blogging for Christina today. I wanted to share some awesome activities I've used in my classroom recently with you. My second graders were really struggling with Main Idea! I had taught it a couple of times but they just didn't seem to be catching on. So I went in search of something to make it stick for them! Ever see this book?
It's all about how to make your messages "stick" with others! I needed something like that - that would stay with them after the lesson and transfer over into the assessments we have to take! Here's what I found!
After a discussion about main idea vs. topic using the cards provided in this unit we tried out the
"light bulb main idea team up game"
I modified a little since I only have six students in my group. Rather than giving students a light bulb and then having others match up to them with the cards I placed two light blubs with the main ideas on them in the pocket chart and each student had a card. They came up to the pocket chart and placed their card under the main idea that it best supported! They did a great job! There are several topics and we went through them all together. Then I broke them into groups of three and gave each group a blank light bulb, dry erase marker, and three blank cards (the light bulb and cards were laminated so they could write on them and erase).
They were so excited on day two when they came in to see I had out scissors and glue!
We made main idea chains! Each student was given one main idea link and three detail links.
They were able to draw a card from the topic cards included with the unit to get them started.
They were all very creative and again I could see the concept "sticking"!! Having the topic cards really helped. Before using this unit I had not included the topic as a separate concept and several times I would get a one word main idea, or something like "all about pizza." So we spent some time talking about how the topic must be a complete sentence that has a clear focus, details must all support the main idea specifically.
I assessed their new learning with this activity complete on their own so I could see how much they were really getting it! Each page has two main ideas and six details. They had to cut out the detail sentences and glue them under the correct main idea sentence. They had to pay close attention to details!
Finally, their favorite activity!! Main idea hats!!
They were given a light bulb to record their main idea on and three cards for details. Once they had them written out and I had made sure they were correct they glued them on a sentence strip and wa-lah!!
They were so excited to wear them back to their classrooms! I could hear the ooohhhs and ahhhhs as they walked in and they were so proud to show them off to their classmates!
Kelley's activities really helped a difficult concept "stick" for my students!
Don't forget to click on the preview picture above and check out all her great products!!
Then come on over to my blog to see more about teaching main idea! We got a great start from Kelley but we are still working on it! I've got a couple of freebies for you over at The Resource(ful) Room!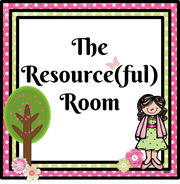 Thanks for reading!